"We must bridge the
vast gap between
what scientists know
and the public
understands."
-- Jim Hansen at 2006
California Climate
Change Conference

By the director of NASA's
Goddard Institute for
Space Studies.
For decades, testifying
for the future of
for grandkids everywhere.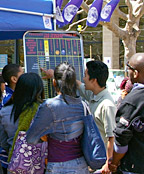 Hands-on Science.
Allowing students
to participate in the scientific work of Jim
Hansen, Stephen Schneider
and Carl Sagan.
ClimateChangeEducation.Org


Tanya Luther Agarwal

Photography: World
View of Global Warming



Naomi Oreskes
Merchants of Doubt

Author's Review:


Commentary on movie
by climate scientists




Stephen Schneider
closes his book,
while describing the
many things
we can do as
individuals about
climate change:
"But most important
for me, as
grandparent, parent
and teacher, is to
hum in your head
often the lines of the
Crosby, Stills
& Nash song:
'Teach your
children well.' "


Author & climate scientist
Katharine Hayhoe
Watch end of interview,
as "newscaster" inserts
network's dictated
climate narrative
over scientific evidence,
insisting: "The Earth has
been cooling!... Cooling!"



"The authors provide hands-on knowledge of details regarding how climate
de-stabilization has, is and will cause an increase in diseases such as cholera,
dengue fever, lyme disease and many others -- in wealthy as well as in third world
countries. For too long, the processes by which increases in temperature and rainfall
magnify epidemics has been an ignored stepchild in climate discussions, but this book
begins to remedy that sad situation." -- Dr. Richard Bailey
To all serious students and teachers of climate science:
you can not find a more essential, rewarding, and pleasurable assignment
than to study this book. Thrilling, right in the action. -- ClimateChangeEducation.org


Science as a Contact Sport:
Inside the Battle to Save Earth's Climate
By Dr. Stephen H. Schneider
The History Behind the Decades-long Struggle to
Bring Global Warming to World's Attention
Press Release Q&A with the author [5 pg pdf]
National Geographic Books
To order: Amazon Publisher




Storms of My Grandchildren
The Truth About the Coming Climate Catastrophe
and Our Last Chance to Save Humanity
Book, by Dr. James Hansen To order
America's leading climate scientist. Director NASA GISS.
Includes The Venus Syndrome--looking 100-500 years ahead




Ross Gelbspan
Pulitzer Prize Winning Author
Boiling Point Also: The Heat is On
Essential reading in journalism and communications courses.




Bill McKibben:
Making a Life on a Tough New Planet
"Our old familiar globe is suddenly melting, drying, acidifying, flooding,
and burning in ways that no human has ever seen. We've created, in very
short order, a new planet, still recognizable but fundamentally different.
Call it eaarth. Eaarth is a manifesto on the new economic and cultural
realities on a changed planet and suggestions for the kind of change
we'll need in order to make our civilization endure."
About New Book

New University Level Textbook
Global Climate Change
Convergence of Disciplines
by Arnold J. Bloom
"Professor Bloom has created the definitive textbook on
climate change. It is comprehensive, well-written and organized—and timely. Bloom's book will inform and inspire
a generation of students confronting the most urgent
challenge of our time." —Kerry Tremain, University of California, Office of the President, and former
Editor-in-Chief, California magazine.
Sinauer Associates, Inc., Publishers




Note to our visitors wordwide:
Nearly all the books on this page are by authors in the U.S.,
Canada or the U.K. More books from around the world can
be found on the international portal. Indeed, we are
interested in listing books from other parts of the world on
climate change and global warming solutions, based on
sound science -- especially if they are available internationally.
We welcome your recommendations of excellent books.
Listings of more outstanding books