Mobile Climate
Science Labs
Where Presented
Lab Themes
Equipment
Standards (K-12)
Academic Subjects
About the Labs
Contact






KTSF TV News
Best viewed in Firefox
or Google Chrome



Carbon Dioxide
Sensor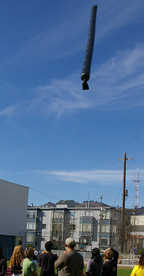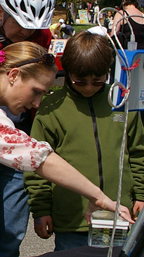 Part of:
America's online library
for Education &
Research in Science,
Technology,
Engineering,
Mathematics:

Where Presented:
Public Events, Conferences,
K-12 Schools: High Schools; Middle and Elementary Schools
Colleges and Universities,
Teacher Professional Development,
Science Centers, Museums, and Aquariums
For Government: professional development, events, legislative hearings
and for Business: meetings, trainings, and corporate events
Based in Northern California.
On occasion presented elsewhere in United States, around world.

Enhancing courses in, part of these subjects, requirements :
Biology Chemistry Climate Change Earth Science Energy
Engineering Environmental Science Geography Geology Health Math
Life Sciences Physical Sciences Physics Space & Planetary Sciences
STEM Technology
Especially suited for High School Advanced Placement (AP) courses
| | |
| --- | --- |
| Earth Sciences | Physics |


Examine real physical evidence, the basis of climate science.
Not just more words, images; only more powerpoint lectures. Not political messaging.
Presenters For:

Collaborative presentations, as with
Lawrence Hall of Science and the National Center for Atmospheric Research
| | |
| --- | --- |
| University of California, Berkeley | Exploratorium |
| | |
| --- | --- |
| AAAS Family Science Days | Boy Scouts of America Anniversary |