Climate Labs
Where Presented
Public Events
Conferences
K-12 Schools
Teacher PD
Museums
Universities&Colleges
Governm't & Business
About the labs






KTSF TV News
November 7, 2011
Best viewed in Firefox
or Google Chrome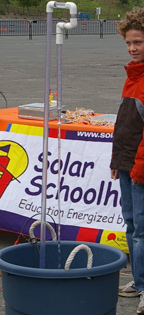 America's online library
for Education &
Research in Science,
Technology,
Engineering,
Mathematics:


The North Bay Bay Area Science Festival Discovery Day
was held at Infineon Raceway in Sonoma.
Over 70,000 for the festival overall.
As a year round hands-on science program, engaging 100,000's annually, the Mobile Climate Science Labs were proud to be part of BASF.
Thank you, Bay Area Science Festival!
We were honored to be an exhibitor encouraging others to be fully engaged in hands-on science. Where:
• Students are given the opportunity to lead the public in hands-on science discovery. As educators, involving thousands more, young and old.
• Local K-12 teachers get real world experience in hands-on teaching, in our very supportive lab environment. Happening even during BASF!
• Persevere in supporting the local schools with evidence based hands-on science, even while public funding for education is being slashed;
at a time when experiential, involving science programs are being discouraged and closed, especially in disadvantaged communities.

Ocean Acidification Demonstration
How changes in carbon dioxide levels in the atmosphere alter the chemistry of the oceans. Fun, dramatic.
Greater CO2 levels lower the pH. Comparing sources of carbon dioxide. Relationship to human health and blood chemistry.
This science demonstration appeared the next night on the evening news in Cantonese. KTSF TV (View in Firefox or Google Chrome)

John Shribbs, Ph.D. presents Ocean Acidification science demonstration
Dr. Shribbs is the California team leader of Lifelines for High School Climate Change Education
-- a three year national program funded by NASA and administered by Lawrence Hall of Science.
John is a highly acclaimed, popular teacher of Advanced Placement Environmental Sciences at Casa Grande High School in Petaluma.
Carbon Dioxide Lab
Atmospheric Molecules Lab
Solar Schoolhouse -- a wonderful program we at the Climate Labs love working alongside, sharing booths.
Some of the other scenes from Infineon Raceway, Sonoma -- Saturday November 5 -- BASF
Sonoma News Article