Mobile Climate
Science Labs:
Hands-on demonstrations
for large public events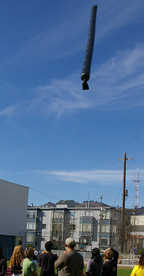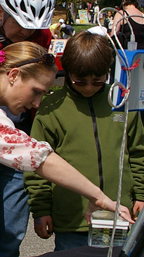 Saturday April 9, 2011
• Green Festival, San Francisco
• Whittier, California: Earth Day 10am-2pm
• Cupertino Earth Day 10am-2pm City Hall Plaza
Sunday April 10, 2011
• Aquarium of the Pacific, Long Beach (Also Saturday April 9)
Wednesday, April 13, 2011

Saturday, April 16, 2011
• City of Santa Rosa: Earth Day
• Santa Barbara Earth Day
• Emeryville Earth Day 10am-4pm


Bay Festival
Berkeley Marina, 160 University Ave.
Sat. April 16 11am -5pm
The day starts with a shoreline clean-up and continues with education,
entertainment, and fun for all ages. Hands-on science.

• Cal Day (UC Berkeley's campus-wide open house)
• Tahoe Truckee
• Foster City
• Martinez: John Muir Historic Site -- National Park Service

Sunday, April 17, 2011
• San Diego Balboa Park: Earth Fair 2011 10am to 5pm Exhibitors
• Headlands Institute Earth Day 11am-4pm

Thursday, April 21, 2011
• Sacramento Earth Day 9am-2pm

Monday to Friday, April 18-22
• UC Berkeley Earthweek [Wednesday, Upper Sproul: Energy]

Friday, April 22, 2011
• Berkeley Vegan Earth Day UC Berkeley 112 Wurster Hall 7pm
• Chico: Party With the Planet -- Earth Day Concert
Chico Downtown Plaza. Butte Environmental Council. 5-9pm. Free
• Coachella Valley: Earth On Edge 2 at the GreenZone

April 22-24, 2011
• 12th Annual Topanga Earth Day

Saturday, April 23, 2011
• Oakland: Junior Center of Art and Science, Lake Merritt Event Flyer
• Lafayette 11am-3pm
• City of Fremont 11am-3pm
• Sacramento 12:30pm-5:30pm
• Earthday SF Civic Center Plaza 10am to 6pm (415) 571-9895
• San Francisco Crissy Field Center--
Earth Stroll 2011: An Earth Day Celebration 10am -3pm

Thursday, April 28, 2011
• West Contra Costa County Business Earth Day Expo

Friday, April 29, 2011
• San José: Bright Green Day 11am-7pm San José City Hall Plaza

Saturday, April 30, 2011

Sunday, May 1, 2011
• Albany Arts and Green Festival

Saturday May 7, 2011

• Chico: 32nd Annual Endangered Species Faire --Info: (530) 891-6424
This year's theme: Climate Change Cedar Grove in Bidwell Park 10am-4pm



Sunday May 8, 2011

Watching for listings of 2011 events:
• Oakland Zoo's Earth Day
• Chabot Space and Science Center
• KQED (PBS)
• City of Alameda
• EPA Region 9's Earth Day Festival [Not held in 2011]
• Earthday LA [Will be June 24-26, rather than in April in 2011]
• Marin Earth Day

Additional California Listings --
Thank you always to these listings as valuable resources:
• Ecology Center's EcoCalendar
• Earth Day Network
• Bay Area Kid Fun
• EPA Region 9 Earth Day events page
We are glad to have been an inspiration for this Earth Day event web listing.

Thank you:
Earth Day Network -- Earth Day Listings for the United States



Held in 2010:


Boy Scouts of America -- 100th Anniversary Jamboree
Hands-on Climate and Energy Science. Earth Day
ClimateChangeEducation.org, NASA, Chabot Space and Science Center,
Solar Schoolhouse, more. Held April 16 -18, 2010
Largest hands-on science event in Northern California in 2010.
Alameda County Fairgrounds --26,000 attended

March 29, 2010
• Buy Local Foods Instead OF Imported -- San Jose

Saturday, April 10, 2010 - Sunday, April 11, 2010
• Naval Base Ventura County Earth Day Events

April 12 - Monday, 2010
• California's Long-term Energy Efficiency Strategic Plan: It's massive, but is it doable?
Boalt Hall, School of Law, UC Berkeley Campus, Berkeley. 6pm - 7:30pm.
RSVP by April 8 at http://berc.berkeley.edu/events#caleeplan.

April 17 -- Saturday, 2010
• KQED (PBS)
• Middletown

April 18
• Global Warming Flood Line Run in San Francisco

April 19, 2010
• PBS Earth Days Premier

Thursday, April 22, 2010
• Cool Cuisine: Taking a Bite out of Global Warming. Author Laura Stec. Redwood City
• Ecology Center. Berkeley 6-9pm (Fundraiser)
• LA: Pay it Forward Project
• Naval Base San Diego Earth Day
• Monterey: Naval Post Graduate School Earth Day Celebration
• Earth Day Fair at UCLA
• Sonora Earth Day
• LMU Earth Day Festival (LA)


April 25 Sunday, 2010
• Celebrate People's Earth Day -- San Francisco
• Children's Earth Day -- Culver City
• Earth Day Eco Fair and Performance -- Malibu
• Foster City Earth Day Fair 2010




Featured in the Climate Change Education .Org and
Global Warming Kids .Net booths:

Earth Week on Sproul Plaza 2006 and 2007
More Earth Day Resources
San Francisco Library
KQED (PBS)

April 25
• Read the SF Chronicle's coverage.





Earthweek 2007
UC Berkeley Campus